Kevin Spencer is a teaching artist, researcher, speaker, consultant, and award-winning film producer as well as faculty in the Special Education program at Carlow University (PA) where he teaches a course on the intersection of the arts for special populations. He is also a world-renowned illusionist with dozens of accolades to his credit. He and his wife, Cindy, were the recipients of the Merlin Award for International Magicians of the Year (2009) and six-time recipients of Performing Arts Entertainer of the Year. Most recently, the Milbourne Christopher Foundation honored them as Illusionists of the Year (2015) for their unique contributions to the art of magic.
Spencer is widely considered the leading authority on the educational and therapeutic benefits of magic tricks in education and rehabilitation. His work has taken him around the world where he has conducted professional development training for educators, interactive classroom activities for students, and continuing education workshops for rehabilitation specialists.. He is a regular speaker at international education and healthcare conferences and believes in the power of the arts to bring transformative experiences to people of all abilities.
Spencer is the creator of Hocus Focus and Healing of Magic and holds a Certification in Autism Studies. His groundbreaking research has been published in the Journal of the International Association of Special Education and the Journal of the International Society for Teacher Education. And his work has been featured in Today in OT, the Journal of the American Medical Association (JAMA), the Australian Occupational Therapy Journal, Today in PT, REHAB Today, HEALTH magazine, ADVANCE for Occupational Therapy Practitioners, and numerous other publications.
Spencer has presented research at numerous education and healthcare conferences world-wide including the Council for Exceptional Children (St. Louis, 2016), Division of International Special Education and Services (Ireland 2011, Tobago 2013, and Portugal 2014), the East Asian International Conference on Teacher Education Research (Hong Kong), the International Society for Teacher Education Seminar (Norway), the International Scientific Conference on Rehabilitation and Education (Belarus), and the International Association for Special Education (Namibia 2012 and Vancouver 2014). He is scheduled as a featured presenter at the First World Congress for Persons with Disabilities in Russia (2017).
KEVIN SPENCER - TEACHING ARTIST
INTERACTIVE CLASSROOM ACTIVITIES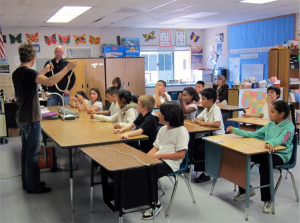 Spencer will visit special education and inclusive classrooms (upper elementary, middle and lower secondary levels) for 50-minute interactive activities. Students will learn one or two simple magic tricks designed to improve cognitive, motor, communication, and social skills while developing creativity. Each activity was developed in alignment with Common Core Standards of Learning.
PROFESSIONAL DEVELOPMENT TRAINING
Spencer offers several Professional Development training programs for general and/or special educators on arts-integration in the classroom.
Topics include:
Special Education & Arts Integration: The IDEA legislation mandates that students must be educated in the "least restrictive environment." However, according to a study released in 2015 by the U.S. Government Accountability Office, almost half of all teacher preparation programs do not mandate field experience with special education students; consequently, few general education teachers are prepared to work with the students they will inevitably have in their classrooms. It is critical that children with special needs aren't simply "present" in the classroom but are actively "included" in the learning experience. This workshop will focus on arts-integrated teaching methods that are applicable to general and special education students to meet a wide variety of cognitive, physical, social, emotional, and behavior challenges in multiple settings.
Teach Like A Magician: This highly interactive workshop provides teachers with the tools and knowledge necessary to increase student engagement, boost creativity in the classroom, and transform their life as an educator. In these challenging and changing times, students need leaders who are willing to venture forward and explore new frontiers that will spark and kindle the flame of creativity and imagination.
 Autism & Arts Integration: Many teachers are keenly aware of an increase in the number of students with autism spectrum disorders in their classrooms. In this session, participants explore questions about what autism is, how it affects people, and how some strategies are utilized to help students with autism learn through the arts. Spencer will address the impact the arts can have on motor skills, communication, emotional/behavior, socialization, sensory challenges, cognitive processes and executive function when working with students with autism/ADHD and offers practical suggestions for teachers to use.
Magic in the Classroom: Phenomenon-Based Learning is a pedagogy in which the student's own curiosity becomes the driver for learning. The student explores, not from the point of view of trudging through a project or problem, but as a result of seeing some interesting phenomenon and wanting to understand what is going on. This works because interest and enthusiasm do not result from the content alone; they come from the students themselves as they discover more about the phenomenon. In this workshop, the art of illusion is the discipline, the "phenomenon" to which students are exposed. Through the exploration of the methods used to execute a magic trick, students are given the opportunity and encouraged to participate in the productive exchange of ideas associated with the trick. Because magic taps into the natural curiosity of people, this project has the potential to capture the shared interests of all participants and actively engage them in producing, creating, experimenting, and designing as materials and methods used in the trick are manipulated and changed.
STEAM & Phenomenon-based Learning: This workshop is centered on the advancement of next generation learning (NGL) and 21st century skills. Well-prepared teachers are essential to the successful implementation of Next Generation Learning that draws upon recent findings in how children learn best – phenomenon-based learning that is creative and collaborative. This workshop will focus on (1) defining the concept of "phenomenon-based learning," (2) exploring the connections between Phenomenon-based Learning, State Education Standards, and/or the Common Core State Standards (CCSS), (3) providing teacher training on designing authentic learning experiences for students using PBL concepts, (4) examining the effects of cooperative learning groups that embrace diversity in learners and, (5) implementing engaging activities that illustrate science, language arts, and math concepts through an arts-integrated approach (STEAM).
AFTER SCHOOL ENRICHMENT PROGRAM FOR STUDENTS
"Magic Camp" combines learning magic tricks with storytelling, music, theatre, and creative movement. Through the art of magic, "campers" explore their curiosity, develop their magical creativity, and discover new confidence. And when camp is over, the students perform a live magic show for family and friends that will surely baffle and amaze them! This is limited to 20 students and is held for two hours after school each day.
INTERACTIVE UNIVERSITY CLASSROOM PRESENTATIONS
Spencer is faculty in the special education department of Carlow University (PA) where he teaches a course on the intersection of the arts and special education. He also is one of a select few to have the Approved Provider Status of the American Occupational Therapy Association. He brings valuable experience and expertise to discussions relating to the impact and benefits of arts integration in:
Education
Special Education
Psychology
Rehabilitation Sciences
SENSORY-FRIENDLY RELAXED FAMILY PERFORMANCES
For more than 20 years, Spencer toured internationally in the performing arts arena. He gained a reputation of professionalism and unparalleled quality in the industry. Today, he offers a family and sensory friendly performance suitable for audiences of all ages. Its uncomplicated production values make it technically trouble-free delivering an impressive performance that is also affordable.
WHAT IS HOCUS FOCUS?
Hocus Focus™ is a child-centered, activity-based program that combines education with imagination to help students develop and improve their abilities in a variety of important areas. Spencer's interdisciplinary approach to designing Hocus Focus™ values a holistic philosophy so essential to effective educational experiences that are generalizable for all children, including those with disabilities. It transcends the confines of culture by its very nature of incorporating play, reaching beyond the boundaries of the U.S. educational system and influencing a global audience.
Hocus Focus™ is a creative instructional tool to support the learning of students with varying degrees of educational challenges and abilities including autistic, cognitively delayed, emotionally disturbed and learning disabled students. The activities are motivational, promote positive self-expression and reinforce so many key skills needed for student success.
HOCUS FOCUS™: THE ARTS & EDUCATION
In 2015, Spencer collaborated with Dr. Susan O'Rourke to to design and investigate an assessment instrument for educators to measure student growth through the arts in five dimensions of learning: cognition, motor, communication, and social skills while developing creativity and flexible thinking. Hocus Focus Analytics is the capstone of that project and is the first assessment instrument developed to quantify learning through arts-integrated teaching methods. The paper, The Development and Psychometric Investigation of an Assessment Instrument for Educators, was accepted for publication and presentation at the 2017 American Educational Research Association conference.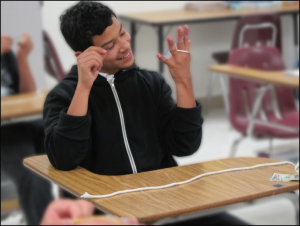 Hocus Focus™ is based on an exciting new education framework called Phenomenon-Based Learning (PBL), a framework grounded in creativity and innovation. Hocus Focus™ is designed to use the student's own curiosity as the driver for learning. Children and adolescents are intensely curious. The art of magic is an effective means of tapping into that natural curiosity. In PBL, magic tricks become both the phenomenon and the art form. When presented properly, it can be linked to important skills needed for student understanding resulting in student achievement and growth. Hocus Focus™ uses both teacher and peer instruction and contains elements of inquiry-based, problem-based, and project-based learning combined with hands-on, arts-integrated activities and responsive teaching.
Through the medium of dramatic arts, students will learn how to follow multi-step and complex directions and organize tasks and movements; write a script; tell a story; perform appropriately; and include creative movement in their presentations. These promote contexts in which the student would play an active role in learning by engaging their attention, memory, and motivation. Peer mentoring and collaboration combined with teacher-modeling would play a fundamental role in this project.
Here is a quick sampling of academic connections with Hocus Focus:
Theatre Techniques
Movement
Speaking and Listening
Storytelling and Oral Expression
Identifying Key Ideas and Details
Following Multi-step and Complex Procedures
Writing Informative/Explanatory Texts
Integration of Knowledge and Ideas
Production and Distribution of Writing
Comprehension and collaboration
Presentation of knowledge and ideas
Vocabulary acquisition and use
HOCUS FOCUS™ AND AUTISM
One in six children in the U.S. are diagnosed with a developmental disability. The second most common of these is Autism Spectrum Disorder (ASD) with a current prevalence rate of 1 in 68. According to the Centers for Disease Control and Prevention, this is more children than are affected by diabetes, AIDS, cancer, cerebral palsy, cystic fibrosis, muscular dystrophy or Down syndrome.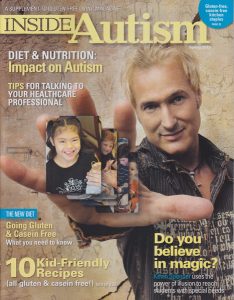 Spencer is especially interested in the possibilities the arts may provide for alternative means of expression for children on the autism spectrum. A feature article in INSIDE AUTISM magazine called Spencer "the kid whisperer" because of his keen ability to connect with children with ASD.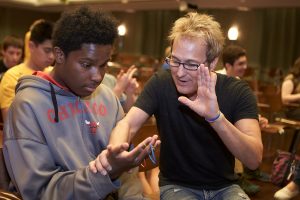 Spencer holds a Certification in Autism Studies. His groundbreaking research on the educational benefits of integrating magic tricks into the classroom for all students, including those with Autism Spectrum Disorders (ASD) and Intellectual/Developmental Delays, has been published in the Journal of the International Association of Special Education and the Journal of the International Society for Teacher Education.Hocus Focus™ addresses some of the challenges that students with autism face – challenges in behavior, social cognition, linguistics, motor coordination, and sensory abilities. The goal is to help these individuals develop the skills necessary to integrate and become productive members of society.
Learning magic tricks can:
Encourage the child to be sociable, flexible, and cooperative when playing and/or studying with other children.
Help the child recognize and implement the codes of social conduct, including the unwritten social rules and expectations of behavior that we all seem to know, but were never taught (the hidden curriculum).
Encourage the child to have meaningful conversation, recognize and respond to facial expressions, and improve the understanding and expression of emotion.
Encourage the child to understand different perspectives and the thoughts and feelings of others.
Provide positive social experiences.
Educate the child on the value of listening, giving and receiving compliments, giving appropriate criticism, and acknowledging they are "wrong" and learning from mistakes.
Improve the child's gross and fine motor skills.
 He is also the founder of the HEALING OF MAGIC program and is widely considered the leading authority on the therapeutic use of magic tricks in physical and psychosocial rehabilitation. He is frequently engaged in research and continuing education workshops. His magic trick-based work has been featured in the Journal of the American Medical Association, the Australian Occupational Therapy Journal, Journal of Hand Therapy, HEALTH magazine, TODAY in OT, and the Washington Post. Spencer has the Approved Provider Status of the American Occupational Therapy Association (AOTA) and has been the Keynote Speaker at numerous state occupational therapy conferences as well as conducting breakout sessions and workshops around the world for therapists, psychologist, physicians, researchers, and rehabilitation specialists.
 His latest project is a short documentary titled POWERFUL MEDICINE: SIMPLY MAGIC.   It premiered in Braga, Portugal in July 2014 to an enthusiastic audience and is being screened at numerous international film festivals through 2015. It has already earned Best Short Documentary at several. The film is a journey of self-discovery and resilience told through the voices, faces, and hands of incredible individuals who struggle with some of life's difficult challenges. Their stories are inspirational, motivating and life changing!
For his humanitarian endeavors, he was given the Harry Chapin Award for Contributions to Humanity.